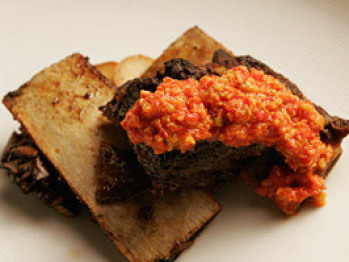 Braised and Grilled Beef Short Ribs was the winning recipe of Top Chef (Season 2) by chef Ilan Hall.
Prep Time: More Than Three Hours
Yields: 6-8
Skill level: Easy
Ingredients
Edit
8 short ribs
8 cups chicken stock
2 sweet onions, such as Vidalia, chopped
1 celery stalk, chopped
3 carrots, peeled and chopped
1 1/2 pounds maitake mushrooms (hen-of-the-woods mushrooms)
1/4 cup olive oil
2 teaspoons salt, plus more for seasoning
1 teaspoon pepper, plus more for seasoning
Directions
Edit
Heat oven to 300 degrees.
Heat 2 tablespoons olive oil in a large ovenproof heavy-bottomed pot with a tight fitting lid. Add short ribs and brown on all sides over medium-high heat. Remove short ribs to a plate.
Add onions, carrots, celery, salt and pepper to the pot. Cook over medium-low heat until vegetables are golden brown and tender. Return short ribs to pot with vegetables. Add stock to pot and bring to a boil. Remove from heat and cover with lid.
Place pot in oven and cook for 4 hours.
Before serving, heat 2 tablespoons olive oil in a medium skillet over medium heat. Add maitake and cook until tender. Season to taste with salt and pepper.
External References
Edit
The recipe comes from Bravo's official website.