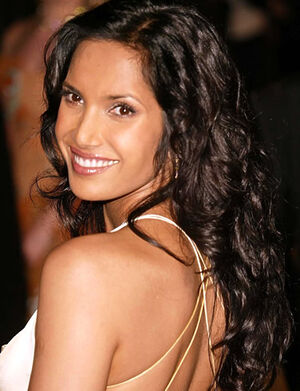 Padma Parvati Lakshmi, Lady Rushdie (Tamil; பத்மா பார்வதி லக்ஷ்மி; born September 1, 1970) is an Indian American cookbook author, actress, and model. She has been the host of the US reality television program Top Chef since season two. In 2009, Lakshmi was nominated for an Emmy Award for hosting Top Chef along with Tom Colicchio.
Lakshmi's career began at age 16, when she was discovered by a modeling agent in India while sitting in a café. She has modeled for top designers such as Emanuel Ungaro, Ralph Lauren, and Alberta Ferretti and appeared in ad campaigns for Roberto Cavalli and Versus. Lakshmi was a favorite model of the photographer Helmut Newton, whose photographs of her often highlighted the large scar on her right arm. She has appeared on the cover of Cosmopolitan, L'Officiel India, Asian Woman, Avenue, Industry Magazine, Marie Claire (India Edition), Harper's Bazaar, Town & Country, and Newsweek. Lakshmi also posed nude for the May 2009 issue of Allure magazine.
Movies and television
Edit
Lakshmi had a comical supporting role as the lip synching disco singer Sylk in the 2001 American movie Glitter with Mariah Carey. She starred with Amitabh Bachchan and Jackie Shroff in the 2003 Hindi action box office failure Boom as Shiela Bardez, one of a trio of super models accused of stealing diamonds. Lakshmi was last seen on screen as Geeta with Aishwarya Rai and Dylan McDermott in Paul Mayeda Berges' 2005 film The Mistress of Spices.
Padma Lakshmi made a 2002 guest appearance as alien princess Kaitaama in "Precious Cargo", the 37th episode of the science fiction TV series Star Trek:Enterprise . She was also hostess of Domenica In, Italy's top-rated television show. She portrayed Sean Bean's nemesis in the 2004-2005 iTV TV series Sharpe's Challenge, and in 2006 Lakshmi appeared in ABC's TV series The Ten Commandments with Dougray Scott, Naveen Andrews, and Omar Sharif. Lakshmi took over as host of the popular TV cooking competition series Top Chef in 2006 during its second season and has continued every season since then.
Music video
Edit
In 2009, Lakshmi starred in the EELS video for the song "That Look You Give That Guy," playing the love interest of Mark Oliver Everett.
Cookbooks
Edit
Lakshmi's first cookbook, Easy Exotic, was awarded Best First Book at the 1999 World Cookbook Awards at Versailles. She hosted the Food Network series Padma's Passport, which is part of the larger series Melting Pot, in 2001. Lakshmi also hosted two one-hour specials on India and Spain for the British culinary tourism show Planet Food, which have been broadcast on the Food Network in the US and internationally on the Discovery Channels. Lakshmi's second cookbook Tangy, Tart, Hot and Sweet was released October 2, 2007.