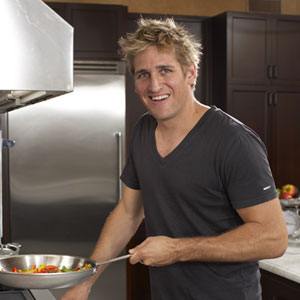 Curtis Stone is the host for Top Chef Masters (Season 3).
Curtis is a master chef, best-selling author, TV personality, and entrepreneur. When it comes to cooking, his philosophy is to cook as Mother Nature intended: buy locally-produced seasonal and organic ingredients, keep recipes simple, and allow the food to speak for itself.
Born in Melbourne, Australia, Curtis left Victoria University in 1994 at the age of 18 to follow his passion for food. His strong will and love for quality cuisine led to a job cooking at The Savoy Hotel. Once a qualified chef, Curtis began travelling throughout Europe with his best mate. Three months into his travels Curtis arrived in London broke and in need of a job. Determined to fulfil his dream of working in the world's best restaurants, he walked into legendary Chef Marco Pierre White's kitchen and offered to work for free in exchange for the opportunity to work alongside the three-star Michelin genius. After proving his worth, Curtis was brought on staff and remained at The Grill Room at Café Royal for two years.
From Marco's Grill Room, Curtis advanced to Sous Chef at the Mirabelle where he contributed to the restaurant's highly revered Mirabelle Cookbook. Curtis remained at the Mirabelle for two years, during which time it was awarded a prestigious Michelin Star. Curtis was then handed the reigns to Marco Pierre's flagship restaurant, Quo Vadis, where he received critical acclaim and remained until 2003 when he made the leap to television. His first show Surfing The Menu ran for three seasons in 26 countries.
In 2006 Curtis made his debut in the United States via his own hit series Take Home Chef for the Discovery Network's TLC. The series has been a huge international success being viewed in over 70 countries around the world. More recently, Curtis signed an exclusive deal with America's major network NBC. As the networks resident chef, Curtis can be seen on NBC's hit series The Biggest Loser teaching contestants how to make good nutritional choices and prepare healthy meals. He is also a regular contributor on America's number one morning program The Today Show. Twice monthly Curtis provides viewers with tips and delicious recipes to try at home. In addition, Curtis can also be seen as a judge on NBC's America's Next Great Restaurant.
Curtis was the first chef to have an eponymous product line sold at the prestigious retailer Williams-Sonoma in the USA. His line of sleek and eco-friendly kitchen solutions is currently sold globally. The functional and stunning products have been praised in a variety of publications including The New York Times and O: The Oprah Magazine. The complete range of Kitchen Solutions is available on his website.
References
Edit
Source: Bravotv.com